P3.express is a minimalist, practical project management system that is used in a wide range of large and small projects all over the world. The system is designed to be easy to learn, easy to use, and quick to implement.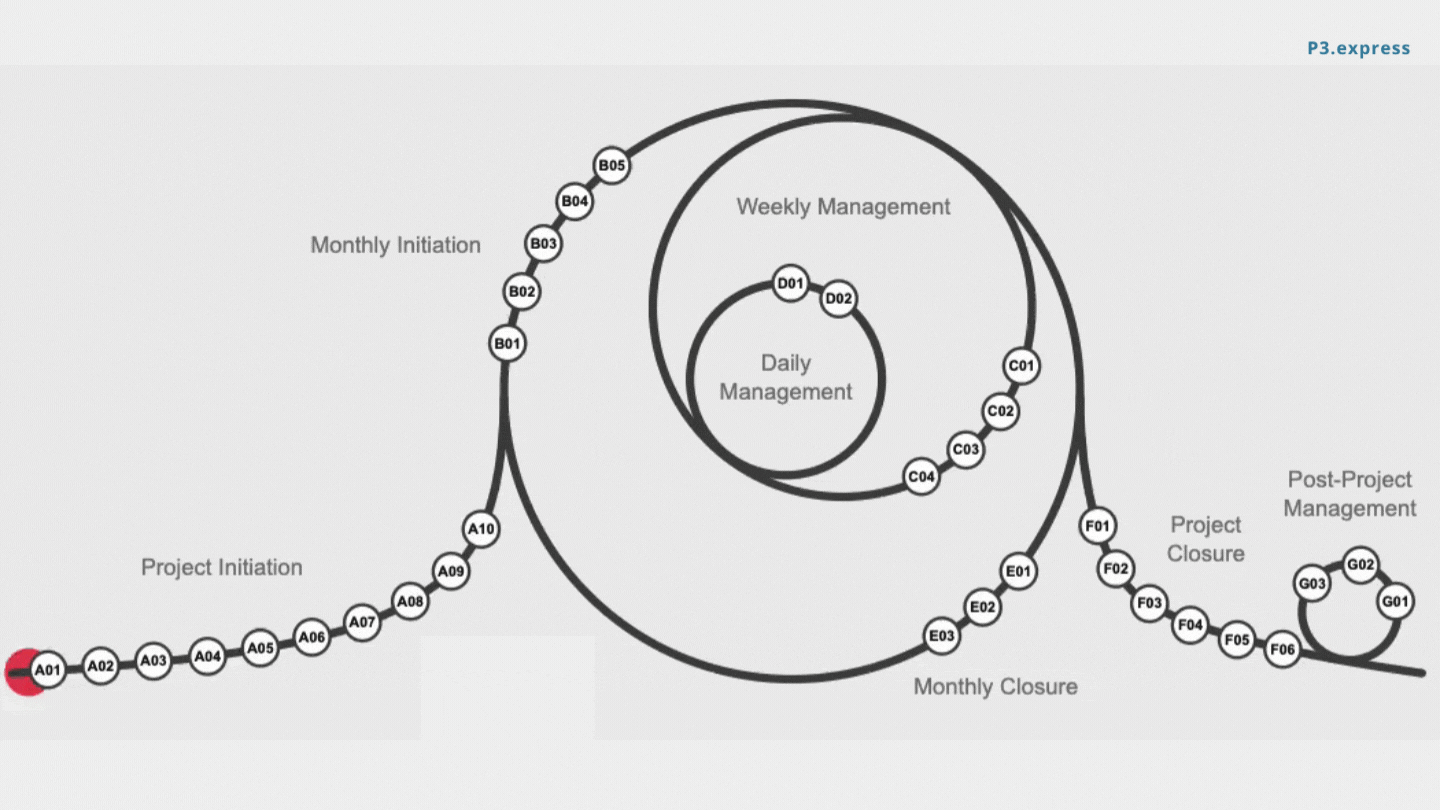 What is P3.express?
P3.express is a project management course that uses a cyclical system to make activities in planning, executing, and managing projects simpler and more regular.
There are monthly, weekly, and daily cycles, each of which focused on one aspect of management activities. 
Each of the 33 activities has a simple description with a clear purpose and output; those include interesting activities such as peer-reviews and various types of focused communication.
I thoroughly enjoyed the course, the principles involved are completely relevant to every project of pretty much any scale and these stay with me now. I thoroughly enjoyed the three days and particularly the group exercises where we all got the opportunity to engage with colleagues.

– Stewart, Premier League
Why use P3.express?
In preparation for the delivery cycles, there's a project initiation activity group run at the beginning, and a project closure group at the end. Finally, there's a post-project management group: a cycle run after the project is finished, to apply lessons learned to help organisations open up further opportunities for beneficial change.
After attending the P3.express workshops, you can take the exam to become a certified P3.express Practitioner. This exam is focused on your understanding of how to apply the principles of the P3.express system to your projects.
Start Dates
August 29th
September 12th
September 26th
October 10th
October 17th
We are the first provider in the United Kingdom and South Africa to gain centre accreditation to train users of P3.express, and to support people getting access to a P3.express Practitioner qualification.
This certificate carries the weight of experience. It helps employers see that individuals are efficient project managers, able to spin all their plates and create a timeline of actionable, minimal tasks to support their teams.
How to get involved?
You can use our contact form below to start your P3.express journey.
Contact form
Please complete the form below and one of our advisors will get in touch with you.