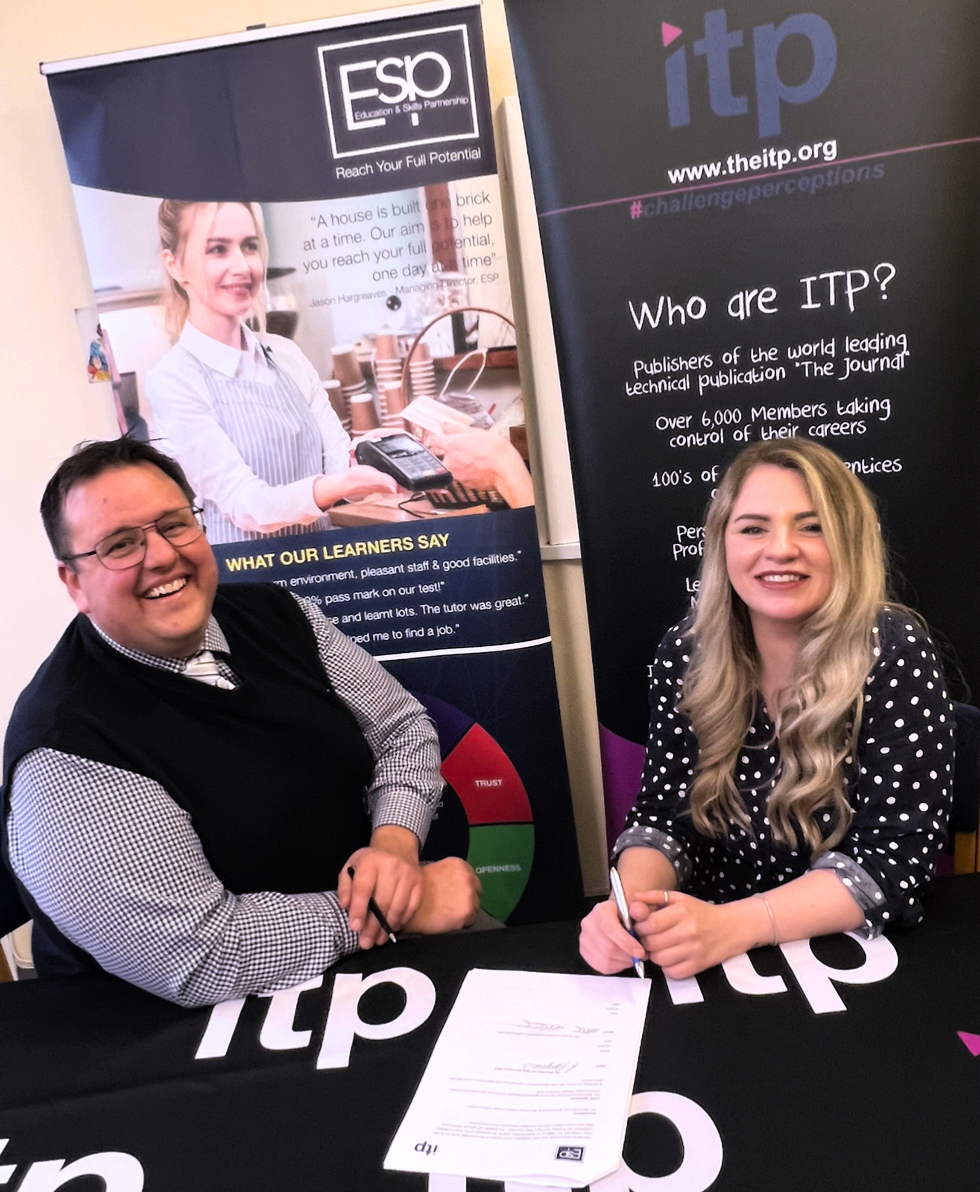 "Our mission is to champion and transform the UK telecommunications tech sector and the people in it. We are a not-for-profit organisation dedicated to supporting our members and industry by harnessing digital skills to build a sustainable industry and workforce for the future. We provide enhanced learning and knowledge services to fuel the UK telecoms tech sector through apprenticeships, professional development, and career advancement" states Charlotte Goodwill, CEO, ITP.
ITP's aim is to offer industry and members a one stop shop. From funding insights to the workplace and back, to work skills training, industry specific apprenticeship programme, recruitment, and placement.
"It was an obvious and easy decision to make. ESP has been a member of the ITP for many years, and its service offering boosts ITP's product & service benefits, and in addition ESP has the expertise to deliver sector specific apprenticeships," mentions Charlotte Goodwill.
ESP supports some of the UK's biggest telecom giants, BT and Openreach, with their telecommunication apprenticeship roll out, as well as providing direct delivery of all three telecoms apprenticeships, the Network Cable Installer, the Information Communications Technician, and the Telecoms Field Operative, to sector employers.
Since it was established, just under eight years ago, ESP has won multiple awards such as the apprenticeship training provider of the UK across industry sectors, best training provider for the SME market in the West and East England.  Currently a silver badge holder of the Armed Forces Covenant, employing more than 30% armed forces reservists and families, and employing close on 100 staff overall.
ESP punches way above its weight in providing employer insights into funded training programmes, a multi-platform delivery of internationally recognised short business courses and apprenticeship programmes. 
With a Good Ofsted rating, ESP is currently achieving over 98% pass rate in adult education funded programmes, and an 82% distinction rate on its apprenticeship programmes way above the national average.
"Three things my team know, we do what we offer, we listen to what our clients and learners need, and no learner is left behind. It's so important to walk the talk. We employ apprentices, our staff members enrol in our training programmes, our team of professional Learning and Skill Coaches and tutors provide the utmost care and mentorship to their learners to ensure no learner is left behind. Our team visit with employers to understand what they need first, and only then map and provide a solution that best fits their needs and expected outcomes." says MD and co-founder of ESP, Jason Hargreaves.
"We are really pleased to be able to grow our membership benefits, and proud to announce The Education and Skills Partnership as ITP's Partners of Choice", says Charlotte Goodwill, CEO, ITP.
For interviews or further information please contact
Jo Evans MITP MCIM
Head of Communications
The Institute of Telecommunications Professionals (ITP)
T: 01932 788861
E: jo.evans@theitp.org
W: theitp.org
Alison Spratley
Marketing Manager
The Education and Skills Partnership
T: 01233 632 111
E: alisons@esp-ac.uk
W: esp-ac.uk
Related Posts
nathans
August 25, 2023
nathans
August 11, 2023